Um gênio chamado Aderson Roberto-A genius named Aderson Roberto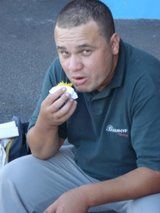 Este é o grande Aderson Roberto,um super amigo.Nóssa amizade começou pelos quadrinhos,e ,segue até hoje.Um grande artista e visionario,irriquieto,ataca em varias frentes,desde comics até video produções.Seu blóg o http://adersonrss.blogspot.com/ é uma verdadeira revista ecléticamente fantastca,que abórda os mais variados assuntos.Aderson foi responsavel pelo meu primeiro blóg,que foi descontinuado,me esqueci a senha e o tempo andou.Agóra estou aqui nesse blóg,no qual vou misturando experiencias,e vou começar a buscar trabalhos do meu antigo blóg,então nada mais justo que prestar homenagem a esse cara,que em tudo tem me ajudado,e é ai que a gente ve quem são os amigos,os heróis.Obrigado Aderson.
This is the great Roberto Aderson, a super friend.we friendship began in the comics, and follows up hoje.Um great artist and visionary, restless, attacks on several fronts, from comics to video blog the productions.A http://adersonrss . blogspot.com / is a truly eclectic fantastc magazine that touches several issues Aderson was responsible for my first blog, which has been discontinued, I forgot the password and time spent.Now i'm here on this blog, where I mixed experiences and I'll start looking for work from my old blog, then it is fair to pay tribute to this guy, who has helped me in everything, and that is where we see who are friends, heróis.Thanks Aderson.