Mundo Globalizado-Globalized World
Text box: "My friend, in this globalized world, who speaks two languages is lost!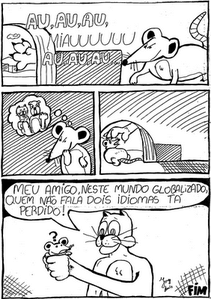 Esta é uma versão em quadrinhos de uma piada que escutei do meu amigo Roberto (Dono de uma banca de revistas na frente da Escola Júlio César na cidade de Alvorada) lá pelos idos de 1998, e nunca me saiu da cabeça. No começo deste ano após ter finalizado as primeiras tiras do Gato Prince. Resolvi então transpô-la para o papel e acho que tendo o resultado esperado. Também serviu como uma forma de homenagear os amigos, Roberto e Sônia que a muito não vejo.

This is a comic version of a joke I heard from my friend Robert (owner of a newsstand in front of the School Julius Caesar in the city of Dawn) by there back in 1998 and never left my mind. Earlier this year after ending the first strips of the Cat Prince. I then decided to transpose it to paper and think that having the expected result. He also served as a way to honor friends, Robert and Sonia do not see that much.